Juan José Escudero Ortega "El Maestro"
   Born in Mairena del Alcor(Seville). Guitarist soloist of SRK. He has accompanied with his guitar to famous flamenco singers as Manuel Mairena, Paco Toronjo, Tina Pavón, Fernanda de Utrera… He won the first prize of flamenca guitar "Confederación de Peñas de Andalucía". He was finalist of the first Biennal " Ciudad de Sevilla" in junior guitar. He has taken his flamenco style in places like:
- Huelva - Hotel Barceló
                - Hotel Playa Canela
                - Hotel Hiberostar
                - Hotel Solvasa
                - Hotel Tierra-Mar
                - Hotel El Coto
                - Hotel Carabela
- Granada - Corral del Principe
                   - Hotel Alhambra.
- Madrid - Nuevo Futuro (Venta del Toro)
                 - El Portón
                 - Faralaes
                 - Sierra Morena.
- Cádiz - Hotel Puerto Bahia
              - Hotel Fuerte
              - Hotel Garbi-Costaluz. 
- México D.F.- Sala Gitanerías, 
                        - Aguas Calientes Feria.
                        - Puerto Vallarta. 
                        - Cancún.
- Argentina - Mar de Plata. 
- Israel - Hotel Holiday Inn. 
     In his discography excel two records with "Al Pairo" band.
---
Manuel Leal
   Was born in Alcalá de Guadaira (Seville). He has excellent references as a guitarist and singer due to that, he has worked for important musical groups. He has travelled around all Spain and he has performed for politicians and artist, as for instance "El Gran Antonio el Bailarín" (Antonio the Great Flamenco Dancer). He has worked in places such as: 
- Bilbao - Ercilla Hotel 
- Madrid - Palace Hotel
                 - Sierra Morena
                 - El Portón
                 - Faralaes
                 - Villarrosa
- Sevilla - Portada de Feria
               - Hotel Los Lebreros
- Marbella (Málaga) - Hotel Puente Romano
                                   - La Caseta del Casino
- Vigo - Nova Olimpia 
- Tanger - Chellah Hotel
- Puerto Rico - Hotel Condado Beach
                         - Reception for the government 
                         - Salinas, (Andaluces Unidos)
                         - San Juan, "El Albaicín"
                         - Cayei  
- Japón - Karatasuka (Osaka)
              - Tokio 
   In his discography there is a total of six recorded discs with the Verea group and four ones with Retama group.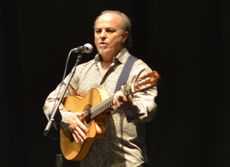 ---
Javier Cervantes
   Was born in Cádiz (Spain). He has performed for several musical groups and as a consequence of it, he has travelled trough the spanish geography and other cuntries, working for the best hotels and events. 
- Madrid - Nuevo Futuro (Venta El Toro)                
                 - Villarosa
                 - El Portón
                 - La Alcazaba
- Sevilla - Expo 92
               - Los Lebreros Hotel
               - Macarena Hotel
- Huelva - Gran Hotel del Coto,
                - Tierra-Mar Hotel
                - Carabela Hotel
                - Flamero Hotel.
- Bilbao - Ercilla Hotel
               - Indaopart 
- Mexico - D.F.Gitanerias Nightclub.
                 - Puebla de los Ángeles.
                 - San Luis Potosí.
                 - Veracruz. 
- Israel Eilat - Holiday Inn Hotel. 
- Dubai - Intercontinental Hotel (nine months).
- Portugal - On several occasions for private parties.
 At present, he collaborates with Sevillian musicians doing productions for other artists
He speak Spanish, English (B1) and Italian (basic).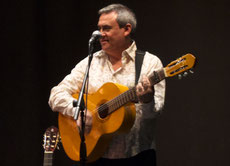 ---
Christian Faerk (Singer/Guitarist soloist)
     Was born in Copenhagen (Denmark). Since the age of 13 he has been studying flamenco guitar. At the age of 18 he came to Spain, specifically to Madrid, where he developed professionally with some of the most important singers and guitarists in this country, this shows the experience and quality of his punteos. Years later he arrived to Seville (Andalusia), where he settled. Bringing passion into each of his works and themes, he has been collaborating and worked on national radio and television and he hasn't stopped traveling around the world with great Andalusian music companies.
Knowledge in several languages, Danish, English, Spanish, Swedish, Norwegian (high level). German (middle level). French and Italian (basic).